The American Society of Landscape Architects (ASLA) announced its 2022 Professional Awards. Twenty-eight Professional Award winners represent the highest level of achievement in the landscape architecture profession.
Jury panels representing a broad cross-section of the profession, from the public and private sectors, and academia, select winners each year. The 28 professional winners were chosen out of 506 entries.
"ASLA Professional Awards for decades have recognized the most significant achievements by landscape architects nationwide, and we congratulate this year's winners for their extraordinary contributions to their communities and the profession," said ASLA President Eugenia Martin, FASLA. "Many of this year's winning projects were focused on reconnecting communities to landscapes, illustrating the important role landscape architects play in creating places for communities to live, work, and play." "These award winners underscore how landscape architects are problem-solving some of the biggest challenges facing communities around the globe," said ASLA CEO Torey Carter-Conneen. "From equitable community gathering spaces to addressing climate change, these winners represent the cutting edge of our industry."
Beginning this year, award winners will be archived in the Library of Congress. In addition, Award recipients and their clients will be honored in person at the awards presentation ceremony during the ASLA 2022 Conference on Landscape Architecture in San Francisco, CA, November 11-14.
Coastal Dynamics Design Lab
The Coastal Dynamics Design Lab won an Honor Award in the Analysis & Planning category.
Title: Accelerating Rural Recovery and Resilience: The Pollocksville Community Floodprint
Location: Pollocksville, North Carolina
Designer: NC State University Coastal Dynamics Design Lab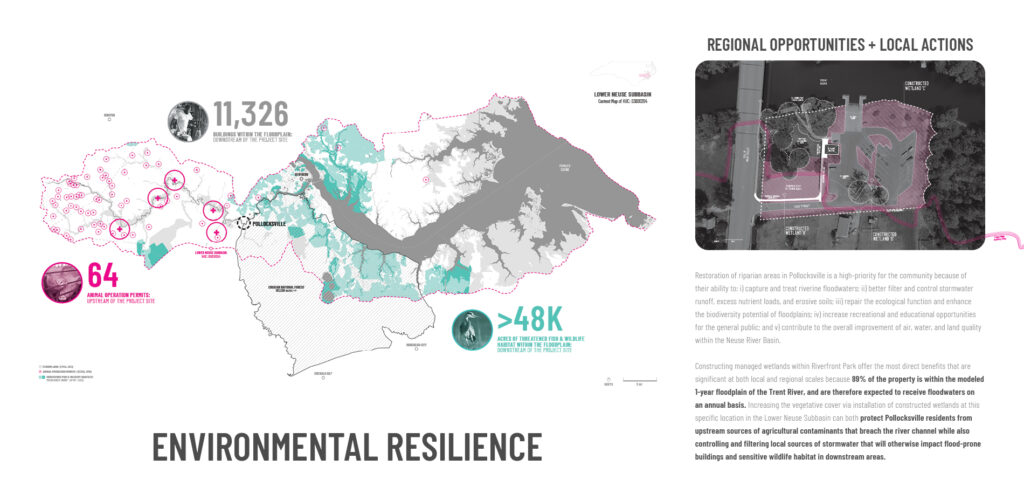 Pollocksville, North Carolina (population 216) is in the midst of a multi-year recovery process resulting from Hurricane Florence (2018). The rainfall generated by Florence was equivalent to a 1,000-year storm event, causing $17B in damages in North Carolina. In Pollocksville, the storm's flooding impacts far exceeded the 500-year floodplain, inundating dozens of homes and nearly two-thirds of the town's commercial properties. The Pollocksville Community Floodprint bolstered local recovery efforts through an integrated portfolio of projects that were co-produced with the community via participatory processes and rigorous analysis. Outcomes are assisting local leaders make Pollocksville more resilient to future shocks.
The project was rooted in place-based approaches to community planning and development, hazard mitigation, and climate adaptation. The plan recognizes the financial realities, multi-generational social networks, personal place attachments, and bespoke micro-migration strategies that must be considered in the recovery processes of low-wealth rural areas. The resulting town-adopted document illustrates processes that both respond to Pollocksville's efforts to build back better and provide transferable lessons to other under-resourced communities that are disproportionately impacted by environmental threats.
Project Credits:
Andy Fox, FASLA, PLA, Principal Investigator / Project Director
Travis Klondike, ASLA, Co-Principal Investigator / Project Manager
Madalyn Baldwin, Associate ASLA, Research Associate
Evie Dentinger, Student ASLA, Graduate Research Assistant
Roberta Fox, ASLA, AIA, Project Consultant
Rodney Swink, FASLA, PLA, Project Consultant
Student Award Winners
Dredge Ecologies: Climate-Adaptive Strategies for a Changing Island in a Changing Climate
Student: Marybeth Campeau (MLA)
Award: Honor Award
Category: Student Analysis and Planning
Location: Eagles Island, NC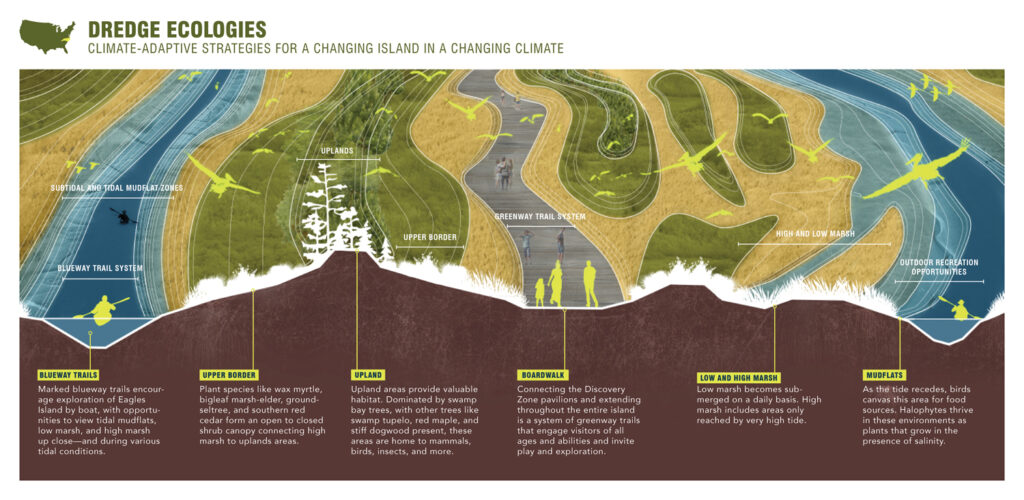 For the past decade, a community coalition has fought to protect Eagles Island, thelargest island in a deltaic archipelago at the confluence of the Cape Fear and Northeast Cape Fear Rivers, as a recreational amenity. Located 20 miles from the Atlantic coast and nestled between the two most rapidly growing counties in North Carolina, Eagles Island exemplifies the anthropogenic challenges and opportunities faced when analyzing and planning for sea level rise. With threats of private development looming, this project provided the local coalition a compelling and comprehensive vision for the island that embodies the mission of conserving and managing the land's natural and cultural assets and providing compatible educational and recreational activities.The project's framework blends multiple levels of meaning to (re)imagine a future that acknowledges and builds upon cultural histories, resulting in a program that fosters climate-adaptive, ecologically rich, and biodiverse habitats using dredged material. Through a process that holistically assessed the island's evolving history, this project grounds conceptual design solutions in a systems-based plan to make the vision a resilient reality.
Faculty Advisors:
Andrew Fox, FASLA, PLA, Professor of Landscape Architecture and Environmental Planning, University Faculty Scholar, and Co-Director, NC State Coastal Dynamics Design Lab
David Hill, FAIA, Head of the School of Architecture; Professor of Architecture; Co-Director, Coastal Dynamics Design Lab
Madalyn Baldwin, Associate ASLA, Assistant Research Professor
Fixed in Flux: A World Class Park Embracing Rising Waters
Students: Makayla Esposito (MLA), Lauren Joca (MLA), Hassan Shata (M.Arch.), Davis Turner (BEDA), and Brian Vaughn (MLA)
Award: Excellence Award
Category: Student Collaboration
Location: Wilmington, NC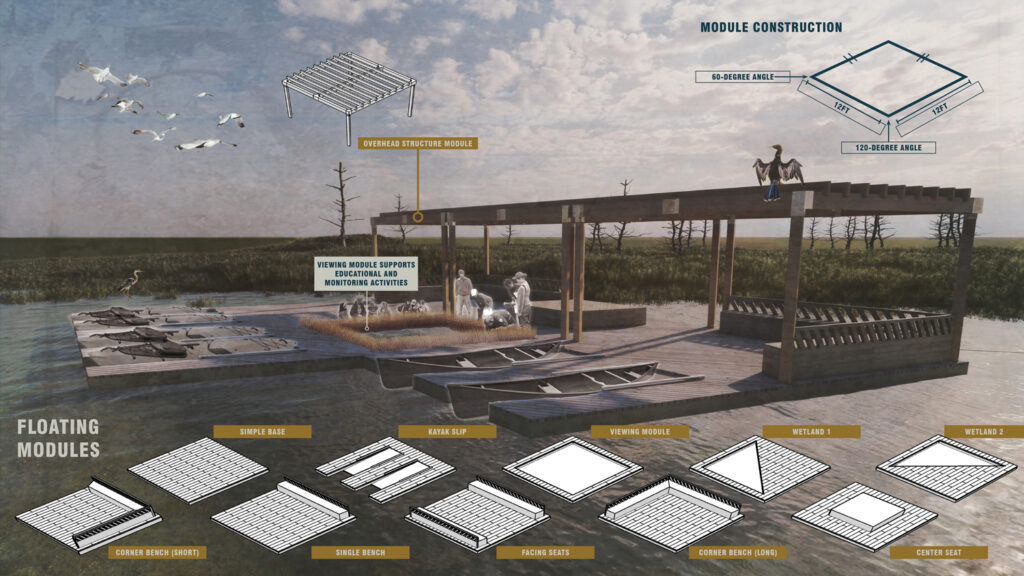 Eagles Island, an ecologically vital freshwater marsh, has been continually altered through processes of extraction and deposit. This landscape, directly adjacent to Wilmington, North Carolina and between two of the state's fastest-growing counties, presents a generational opportunity for community stakeholders. Developed through informed and multiscalar analysis, Fixed in Flux proposes an ecologically distinct and regionally significant park that anticipates adaptation to dynamic natural forces through the next century and beyond.
This project contends with pressing societal issues: reconciling brutal histories of rice extraction by enslaved people, unsustainable status-quo coastal development, and rising waters caused by a changing climate. Informed through robust land suitability analysis, the project proposes a riverfront Visitors' Center on the limited high ground. Additionally, the project reimagines an existing 25-foot-tall earthen berm that contains dredge spoils as an amenity for recreation and circulation–linking thousands of surrounding residents to the park across two rivers. Fixed In Flux reconciles the contemporary challenges of sea level rise and unsustainable development, countering extractive attitudes towards coastal ecologies with a park that countless generations will cherish.
Faculty Advisors:
Andrew Fox, FASLA, PLA, Professor of Landscape Architecture and Environmental Planning, University Faculty Scholar, and Co-Director, NC State Coastal Dynamics Design Lab
David Hill, FAIA, Head of the School of Architecture; Professor of Architecture; Co-Director, Coastal Dynamics Design Lab
Madalyn Baldwin, Associate ASLA, Assistant Research Professor
Seeding Resilience: Celebrating Community, Education, and the Environment at Princeville Elementary School
Student: Spencer Stone (MLA), Madison Sweitzer [MLA '22], William Stanton [MLA '22], Rebecca Asser [MLA '22], Sarah Hassan [MLA '21], Martha Tack [MLA '21], Anna Edwards, Tianyu Shen [MLA '21], Ruixin Mao [MLA '21], Sara Fetty
Award: Excellence Award
Category: Student Community Service
Location: Princeville, NC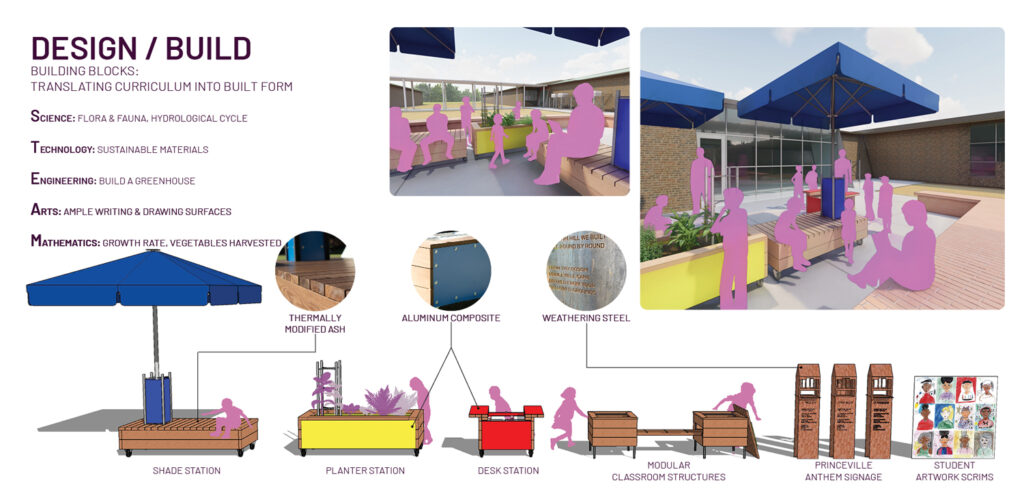 Founded in 1865 as Freedom Hill and later chartered in 1885 as the Town of Princeville (NC), "The Oldest Town Chartered by Blacks in America" has demonstrated a legacy of resilience by recovering and rebuilding after multiple devastating floods. One example of resilience and a symbol of hope is Princeville Elementary School. After significant flooding from Hurricane
Matthew (2016) damaged the school, students living in Princeville were forced to relocate to schools in nearby towns. After renovations and floodproofing, Princeville Elementary School reopened in January 2020.
Through an ongoing partnership with the town, landscape architecture students designed and implemented numerous on-site educational features, including rain gardens, multifunctional outdoor furnishings, artwork scrims featuring school artwork, educational and interpretive signage, and an integrated outdoor learning curriculum guide. These components sustainably manage stormwater, support the teachers' and students' curricular needs, and beautify this long-serving
communal hub. Project outcomes are shaping a sustainable vision for the school, and the town more broadly, by investing in and connecting local youth to the community's rich environmental and cultural context.
Faculty Advisors:
Andy Fox, FASLA, PLA, Professor of Landscape Architecture and Environmental Planning, University Faculty Scholar, and Co-Director, NC State Coastal Dynamics Design Lab
Carla Delcambre, ASLA, PLA, Associate Professor of Landscape Architecture and Environmental Planning
Toxic Tonic: Mapping Point Source Dementogens and Testing the Ability of Environmental Tonics to Mitigate Public Health Concerns
Student: Britt Davis (MLA)
Award: Honor Award
Category: Research
Location: Mecklenburg, Union, and York Counties, NC and SC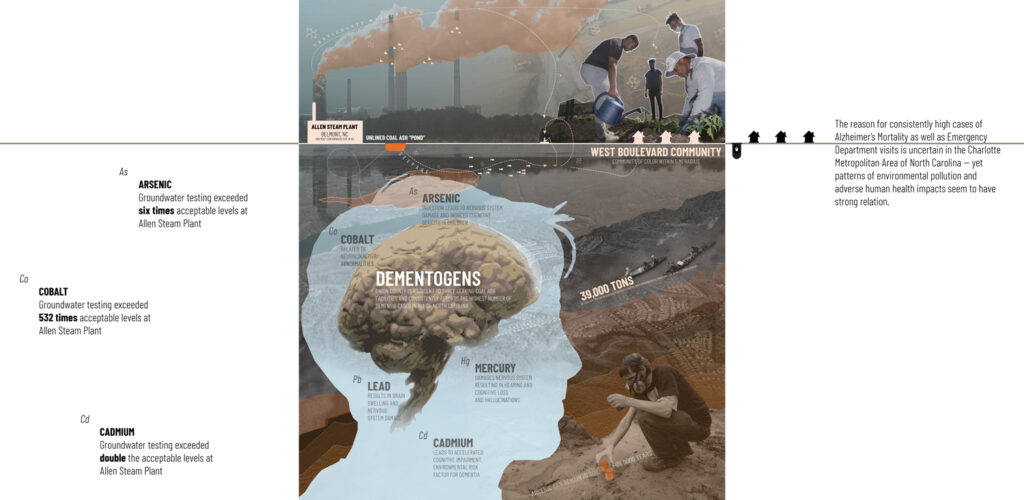 The number of Americans with Alzheimer's is expected to increase to 14 million by 2060. Furthermore, by 2034 the number of adults will exceed children in the United States for the first time. Alzheimer's and related Dementias bear a disproportionate burden on women and people of color. There is an imperative and urgent need to search for the point source of "Dementogens," or categories of toxins that can lead to Dementia. However, little research exists on mitigating environmental pollutants related to Dementia using landscape-based solutions in landscape architecture and related disciplines. Through map-based visual storytelling, this research investigates coal ash ponds as a point source related to this growing public health concern. It uncovers the patterns of disproportionate disease rates affected by structural racism in the built environment. The study also examines the possible benefits of landscape-based alternatives, or environmental tonics to mitigate Dementogens by testing the ability of these strategies to diminish the TOXIC impacts of the built environment on human health.
Faculty Advisors:
Celen Pasalar, Ph.D., Associate Professor in Landscape Architecture and Environmental Planning
______________________
About ASLA and the ASLA Fund
Founded in 1899, the American Society of Landscape Architects (ASLA) is the professional association for landscape architects in the United States, representing more than 15,000 members. ASLA Mission: Empowering our members to design a sustainable and equitable world through landscape architecture. ASLA Fund Mission: Investing in global, social, and environmental change through the art and science of landscape architecture.
This post was originally published in College of Design Blog.